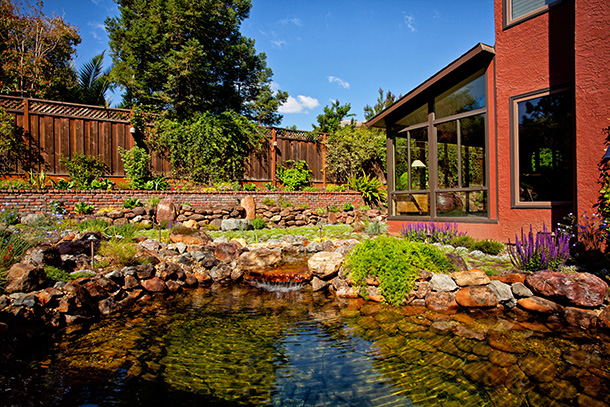 Large landscape installation with koi pond and stream, retaining walls, bamboo hedge with maytan tree, chamomile lawn with flagstone pathway, and night lighting.
This landscape transformation replaced an old swimming pool and created a koi pond with a long winding stream flowing around a central island. Copper Night lighting was place all along the fence to created an ambient mood, with lights around the pond to highlight certain stones and water drops in the stream. Stepping stones allowed the access across the stream to the maytan tree. A flagstone pathway was created in parts of the chamomile lawn and a flagstone patio installed around the outdoor kitchen.
The whole landscape was viewable from a remodeled sunroom at the back of the house and gave the owner the feeling of bringing the outside into the house.
Location: San Jose
Also Serving: Pleasanton, Dublin, Hayward, Fremont, Union City, and Milpitas