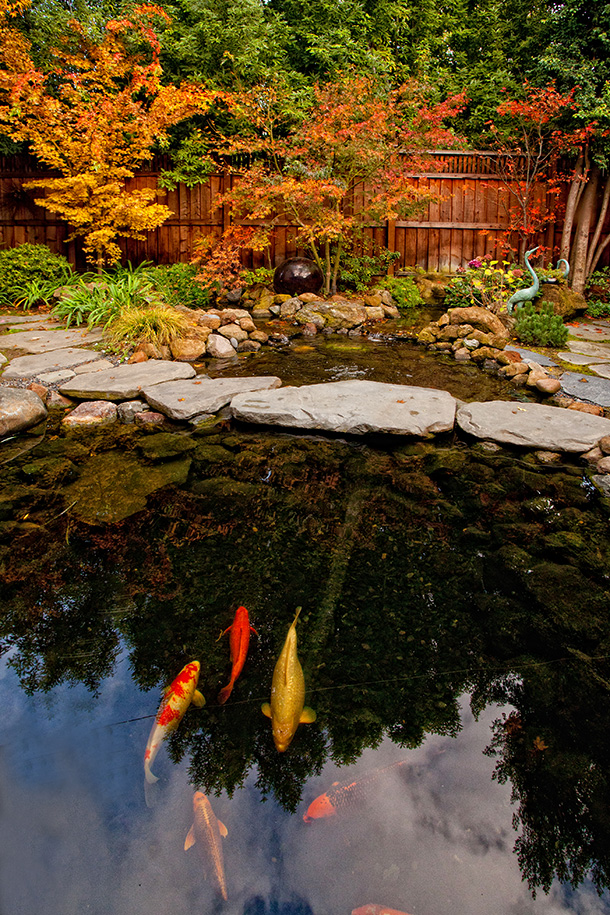 Large residential landscape in Los Altos, with 3 water features, a koi pond with a waterfall and large koi, a pondless waterfall with a stream set next to a lawn, and an overflowing stone basin set on a pedestal in an inner atrium in the center of the house surrounded by glass viewing panels.
The koi pond incorporates a flagstone bridge with a tunnel for the koi to swim through, bead filter filtration, two inline pumps, UV lights and aeration to the bottom of the pond. The pond is set in a courtyard so it can be viewed from multiple angles within the house and has been featured on the annual art studio tours in the area.
The pondless waterfall was designed to complement the natural style of the backyard landscape and the lawn so the falls were designed to be low and the stream to meander alongside the lawn with accent boulders placed to support the effect of the stream. It is viewed from ground level and also the balcony and the sound at night is calming relative to the location of the master bedroom.
The overflowing basin has underwater lights around it and there is a slate walkway around the formal pond and basin on the inside of the atrium.
Principles of Feng Shui, the 'art of placement' were used in the design of the water features.
Location -Los Altos
Also Serving: Saratoga and Campbell